A number of people have asked me how we made our DIY wedding projects and since these projects were one of the original motivations for this blog I figured I should probably get around to sharing some.  At the bottom of this page I have posted a list of our DIY wedding projects (as well as some additional DIY wedding and shower project ideas).  As I blog about my wedding projects, I plan to update the list with links to the posts explaining how Jaime and I made the projects.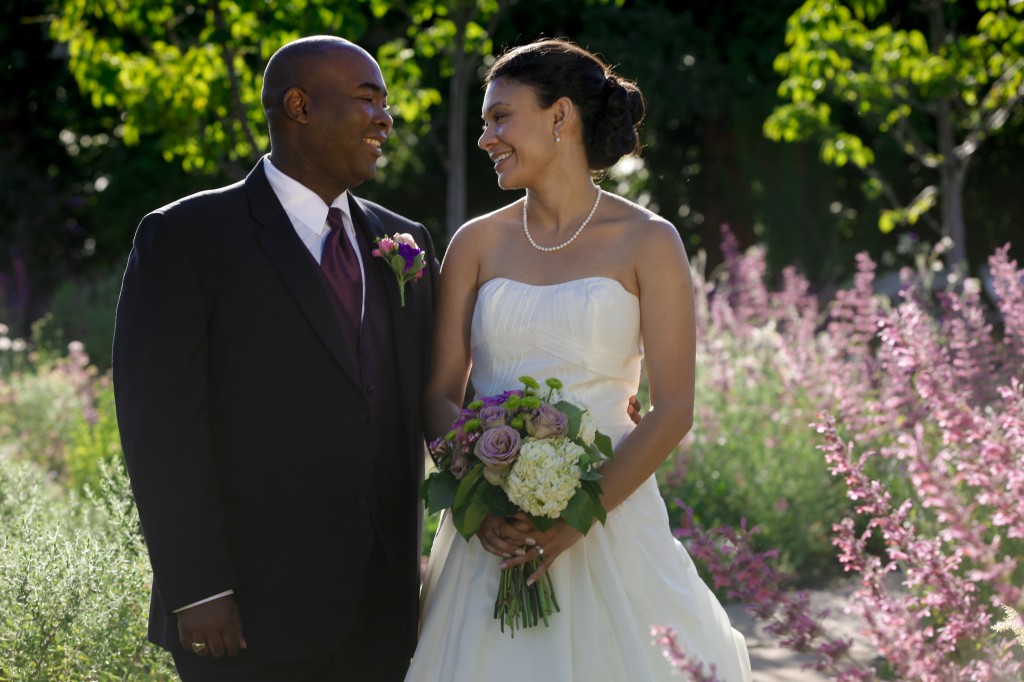 Photo by Natalie Cass, Cass Studios.
Although there were some rough DIY moments leading up to our wedding–many of them involving sewing machine encounters–I really enjoyed making all of our wedding projects and would do it again. I will say, however, that the projects took much longer than I anticipated.  Jaime worked by my side on almost every project and as a result we had a lot of time to talk–and watch back-to-back episodes of Law & Order.  We also got to spend a lot of time with family and friends who very generously volunteered their precious free time to make a veil, paint invitations, address envelopes, make leaves, sew programs, and arrange flowers (coffee filter and real), among other things.  (Thank you all again! We couldn't have done it without you.)  The time spent with loved ones working on our projects was a huge benefit of having a DIY wedding that I hadn't anticipated.
We hosted our wedding and reception at Red Butte Gardens & Arboretum in Salt Lake City, Utah.  I have many pleasant memories of time spent at Red Butte as a child and so was excited to share the gardens with Jaime and our friends.  Our wedding took place in the fragrance garden under a clear blue sky and a canopy of leaves accompanied by the music of a family friend's jazz trio.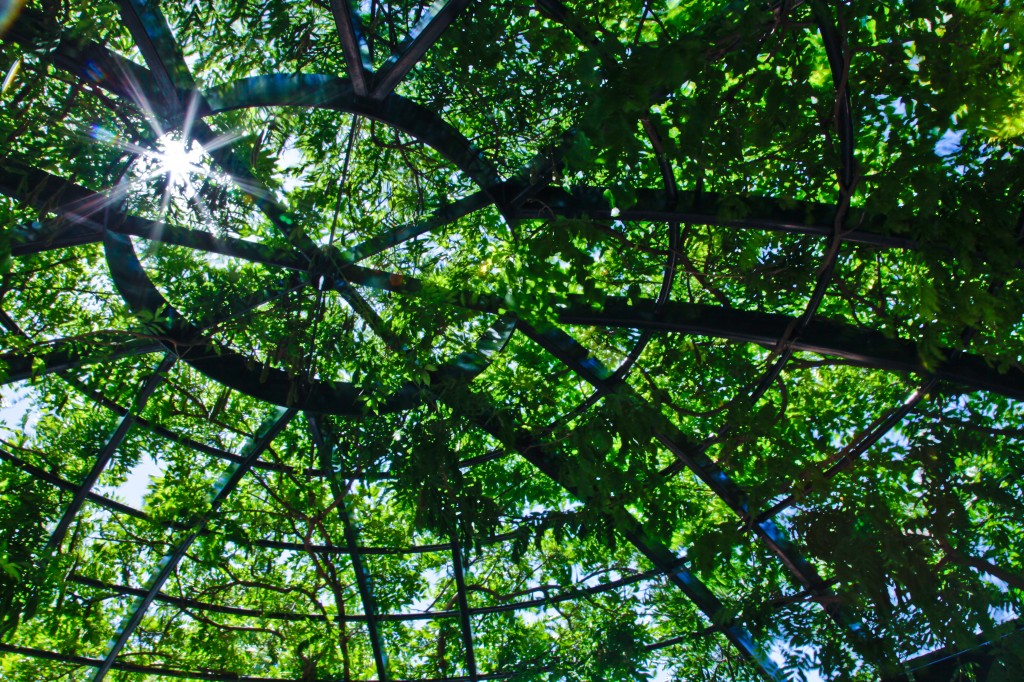 Photo by Natalie Cass, Cass Studios.
My dad accompanied me down the garden walkway, my mom and Jaime's mom helped light the unity candles, and my brother, Jaime's sister, and a good friend did a reading.
The reception was divided between a large outdoor patio (where we had a bar, DJ, and dance area) and an orangerie (where we had the buffet, escort, guest book, card, and cake tables).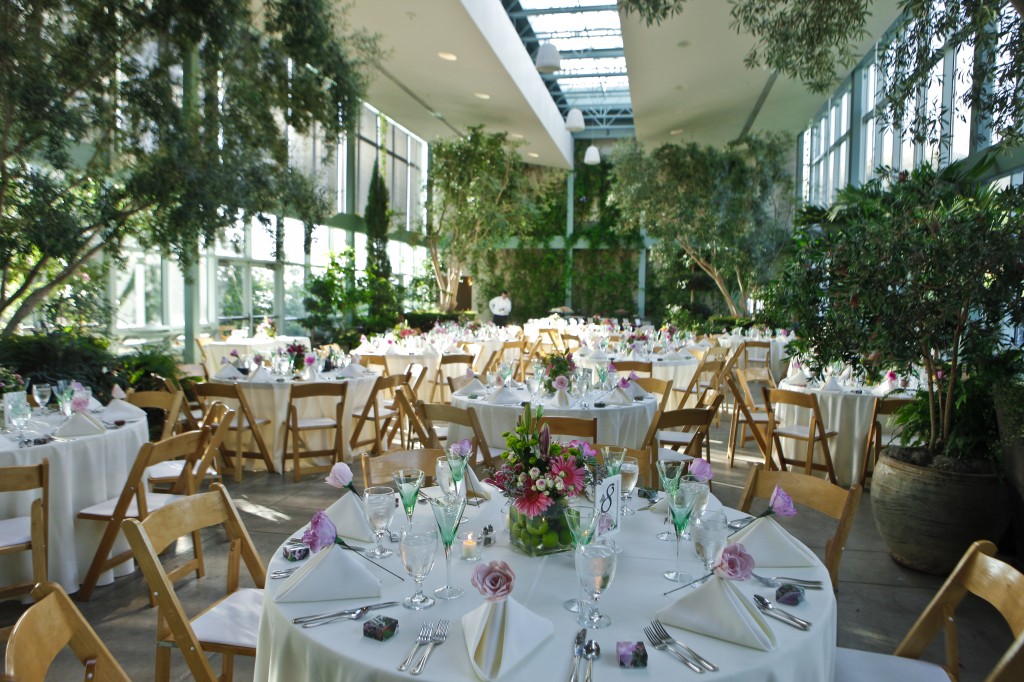 Photo by Natalie Cass, Cass Studios.
I had been a bit worried that the guest tables would look empty as we were having a buffet, but all of our wedding projects filled out the tables nicely.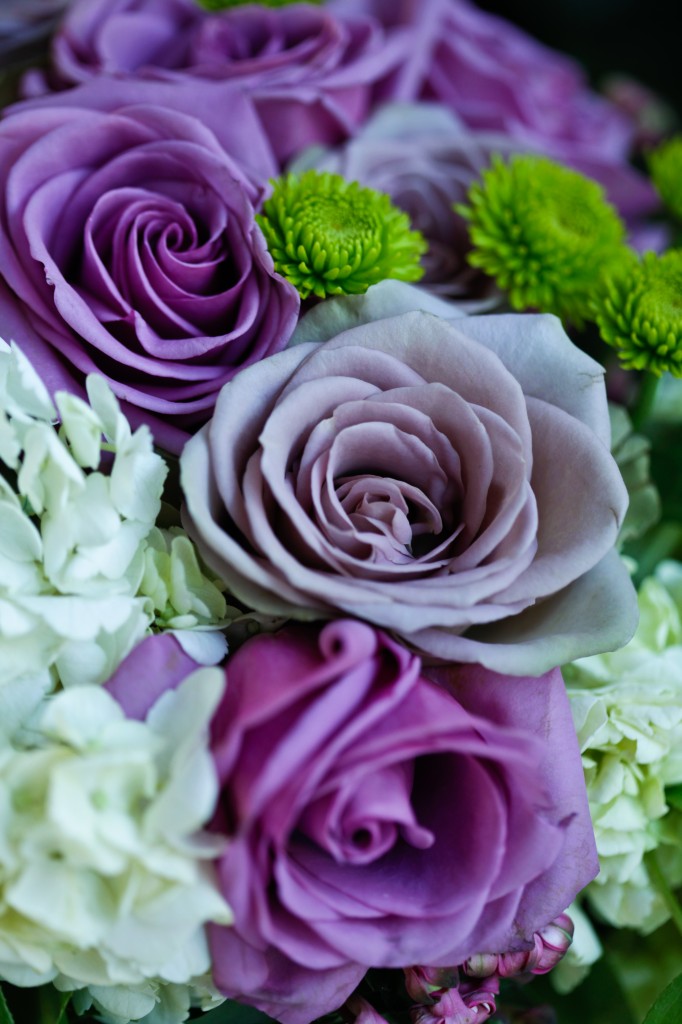 Photo by Natalie Cass, Cass Studios.
Each table had a square vase of real flowers (arranged by one of my parent's friends), votive candles, and a hand painted table number as a center pieces.
Photo by Natalie Cass, Cass Studios.
Each place setting had, in addition to the obligatory utensils and napkins, a green champagne flute, a candy box, a matchbox, and a paper rose. The guest book table had the pages for the guest book, floral clipboards, signs with instructions, and bouquets of coffee filter flowers. The escort card table had gold butterfly envelopes and bouquets of coffee filter flowers.  The escort cards, which had a photo of the coffee filter roses as the background, doubled as photo information cards. The card table had more coffee filter flowers and a birdcage I spray painted gold and filled with coffee filter roses.  A rotating video of family photos played on a small TV nearby. The outside cocktail tables had more coffee filter flowers.
Photo by Natalie Cass, Cass Studios.
I wore one accessory that my parents made (my veil) and two accessories that I made (my hair piece and garter) and my bridesmaids carried purses that I made (my first sewing project!).
We worked with our caterer to try to incorporate as many additional personal touches as possible, which included a family recipe (sweet potato dinner rolls), southern touches (sweet tea, lemonade, a signature southern cocktail, and red velvet cake), the printing of the food labels on color photocopies of our hand painted stationary, and butterflies on the cake to match our stationary.
Speaking of stationary, we designed and made our own wedding invitation suite and programs.  It was A LOT of work as we water colored each piece by hand. We estimate that we painted over 1,000 pieces of paper not counting the few hundred paper roses we made.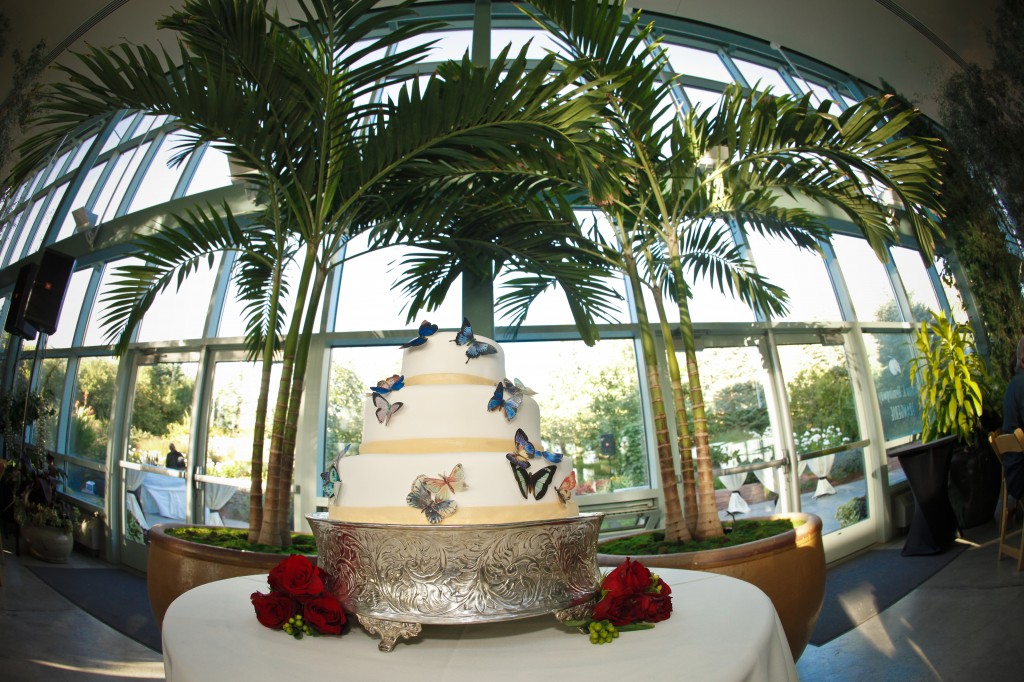 Photo by Natalie Cass, Cass Studios.
 Yes, I realize that the red roses beneath the cake do not match the rest of our decor.  I'm not sure what happened as we had ordered white, but it was a minor hiccup and I didn't even realize that they were red until we got our pictures.

Jaime surprised me with his own secret DIY project of sorts — a video message and song from my favorite husband and wife musical duo, Tuck and Patti.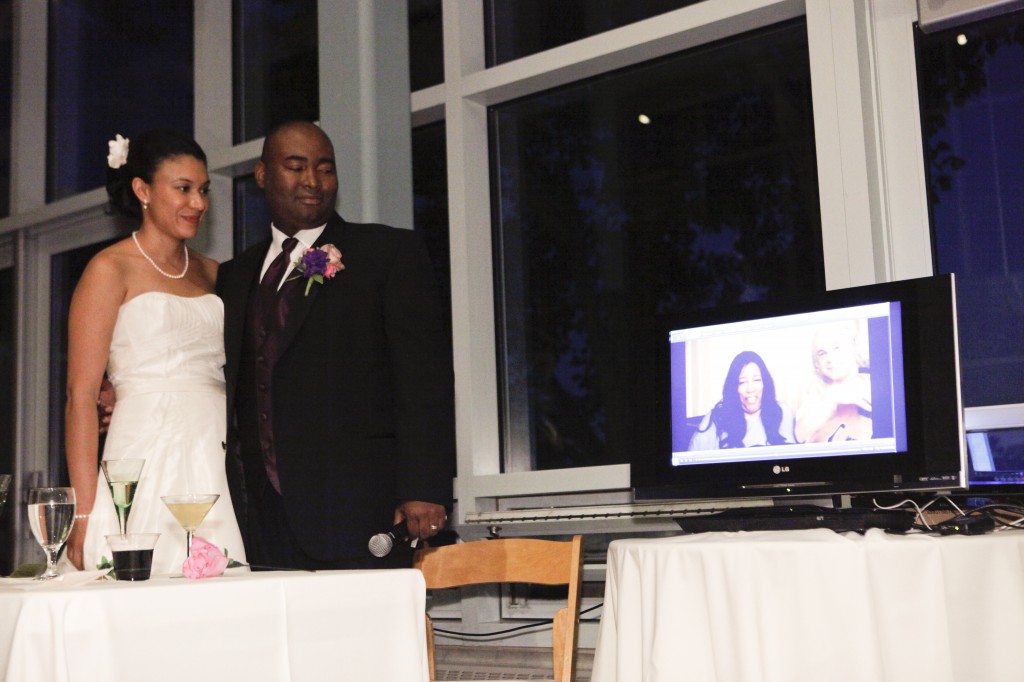 Photo by Natalie Cass, Cass Studios.
And, well, that's pretty much it as far as our DIY wedding projects go. We had a blast at our reception, which involved A LOT of dancing to Michael Jackson songs.  (Sorry, no pictures. I'd like to keep my friends.)
Here is a list of our DIY projects.  If you are looking for information regarding any of our DIY wedding projects, I plan to add links to the posts explaining how we did each of these projects as they are added to this blog:
Lined envelopes (not the envelopes we used for our wedding, but the technique)
Addressing envelopes
Watercolor & stitched programs
Stamped cocktail napkins
Table numbers
Escort cards and envelopes
Matchboxes
Guestbook
Floral clipboards
Coffee filter flowers: roses, daisies, leaves, bridal photo bouquet, toss bouquet, and table arrangements
Veil
Hair flower
Garter
Bridesmaids' purses
Wedding photo gallery wall
Wedding silhouettes
And, here are some projects that I have made for this blog, which I did not use at my wedding, but which I think could be adapted for a wedding or bridal shower:
3.  Chrysanthemum flower cupcakes