I am beginning to run out of time (and steam) for Easter projects, but before I do, I want to share a couple of last minute projects.  These projects are fairly quick (especially compared to the egg boxes and decorative eggs I posted earlier this week).   If you are looking for a last minute project (or two) to complete before Easter one of these projects may be just what you are looking for.  I think these little carrot boxes would be adorable filled with foil covered candies and tucked into an Easter basket.
1.  I designed and cut out the shapes using my Silhouette Cameo.  This could also be done by hand with scissors or a craft knife.
2.  I embossed the paper for the carrot roots.
3.  I folded the hearts and tabs in half.  For each box, I glued two hearts together with the long tabs.
4.  I glued the carrot tops together and then glued two tops on each box.
5.  I folded down the tops of the carrot roots on each box and then folded them in.
6.  I tied the carrot tops together with a piece of ribbon (or glued a paper band around them (not shown)).
For two boxes I used:
Patterns (below)
Silhouette Machine, scissors, or craft knife
1 Sheet orange (8.5 x 11) card stock
1 Sheet green card stock
Glue stick
Embosser (optional)
Ribbon (optional)
Pattern for roots: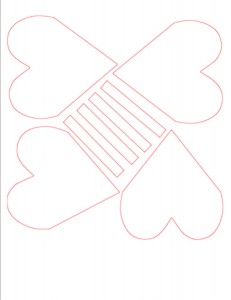 Pattern for leaves:
Note: I couldn't get the files to post as .pdf or .studio files so I have posted them as .jpg files.  If you'd be willing to share advice regarding posting other types of files, I'd love to hear from you!